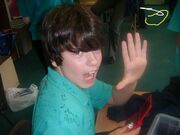 This is a page of one of the cure that killed actors Jack Fiddy
In The Cure That Killed
In the cure that killed Jack plays Peter Jones who is a manic character he is an amateur actor but I the director think he fits the role perfect I feel that he is great at expressing his characters emotions and puts on an amazing performance in combat scenes.
other things
Jack hasn't been in any other web series so far but he did appear in many small youtube channels
http://m.youtube.com/#/user/fiddyfilms?&desktop_uri=%2Fuser%2Ffiddyfilms
http://m.youtube.com/#/user/ManOfHour360films?&desktop_uri=%2Fuser%2FManOfHour360films
facts
he is an Gamer and he plays games like "Call Of Duty","minecraft", "assassins creed" and many more on his Xbox 360
Ad blocker interference detected!
Wikia is a free-to-use site that makes money from advertising. We have a modified experience for viewers using ad blockers

Wikia is not accessible if you've made further modifications. Remove the custom ad blocker rule(s) and the page will load as expected.