Welcome to the Thecurethatkilled Wiki
The cure that killed is a zombie web series that features on youtube. This Wiki will include Characters, Weapons and episodes. Hope you enjoy. I have locked most pages on this wiki if you think there is an error on a page or something should be added please leave a comment or message me and I shall change it. Many thanks
About The Cure That Killed
The cure that killed is a zombie web series based around Peter Jones and Drake Harrision and the people they meet. The apocalypse started because they released a cure for after a life treating disease struck and effected females and all adults but the cure turned people into zombies and now there's just a few survivors left. Who will survive?, who will die?.
Latest activity
Photos and videos are a great way to add visuals to your wiki. Find videos about your topic by exploring Wikia's Video Library.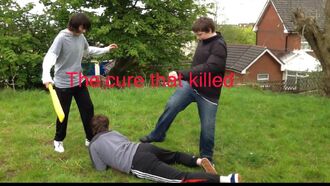 Ad blocker interference detected!
Wikia is a free-to-use site that makes money from advertising. We have a modified experience for viewers using ad blockers

Wikia is not accessible if you've made further modifications. Remove the custom ad blocker rule(s) and the page will load as expected.